Do you want higher Google rankings?
If you're a small business you may not have the resources to outsource your SEO (search engine optimization). Maybe you set up your own website and do your best to track your site's Google Analytics, but you find there's simply not time for much else.
What if we told you that on-page SEO was quite simple and it can drive an incredible amount of business to you? If you can spare just an hour or two a month to dedicate to SEO, we promise it will be worth your time.
Your On-Page SEO Checklist for 2019
Since Google is constantly changing its algorithms and SEO rules, it's a good idea to refresh your strategy annually.
We won't delve into it in this post, but If you haven't already completed keyword research, let that be your first step. Here is a great beginner's guide on that subject.
Read: Why You Need a Keyword Map
Now, let's get started!
On-page SEO includes the content on your page—headers, text, links, etc.—as well as page URLs, title tags and metadata. If you aren't familiar with these terms, don't worry. We'll explain in detail below!
Step 1: Use Precise Page URLs
Google and other search engines are programmed to deliver relevant results to their searchers. In order to index a page and understand what it's about, Google first looks to the URL. And studies have been done showing that top-ranking pages keep their URLs short and to the point.
In addition, the URL is one component a searcher may glance at when trying to determine if a page contains relevant content to their search. Let's say you were searching for the best pound cake recipe.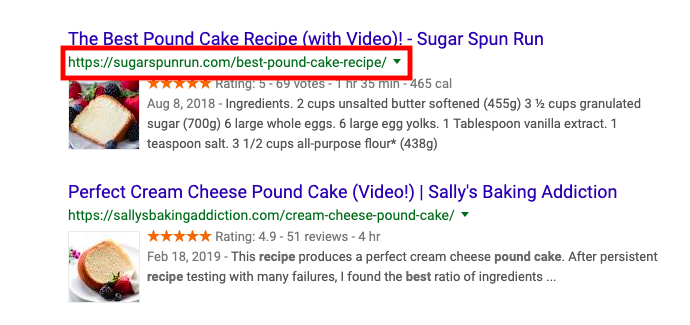 Notice how the top-ranking page has the exact keyword match in its title and URL? Now, that doesn't necessarily mean a person will click on that page over the second-ranked page. I mean, perfect cream cheese pound cake also sounds kind of amazing. But as a top-ranking page for this search, you will certainly get a lot of hits. Keep in mind that once a person is on your page, the content has a lot to do with whether or not they'll stay.
With this in mind, if you can include your target keyword in the page URL: all the better!
Step 2: Write a Keyword-Driven Title Tag
What is a title tag? They are the bold, blue clickable headlines that appear on a search engine results page (SERP) when you enter a search term in Google.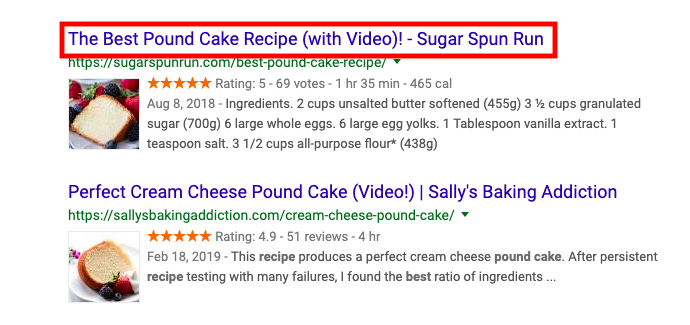 Generally speaking, it's good practice to include your keyword in the title tag. However, consider being descriptive and enticing as well. The title tag is usually the first thing people will notice when a SERP pops up. If you want the best chance at a high click-through rate (CTR), your title has to answer searcher intent, not just rank number one for a keyword.
For example, think about the pound cake results page. I might be inclined to check out the number one ranking page. But if I really love using cream cheese in my cakes, I might go straight to that recipe.
Another thing to remember is that Google has a limit to the number of characters in a title tag that will display on a SERP. The bummer is, this number changes from time to time. But currently they display between 50-60 characters. So if you keep your title tags under 60 characters, you should be good to go.
Step 3: Optimize Metadata
That little paragraph below the title tag and URL is called a meta description. Searchers are likely to scan it to see if your page appeals to their specific question or need. To help the searcher decide if your page is a good fit, Google highlights in bold every word in your paragraph that the searcher also used in their search phrase.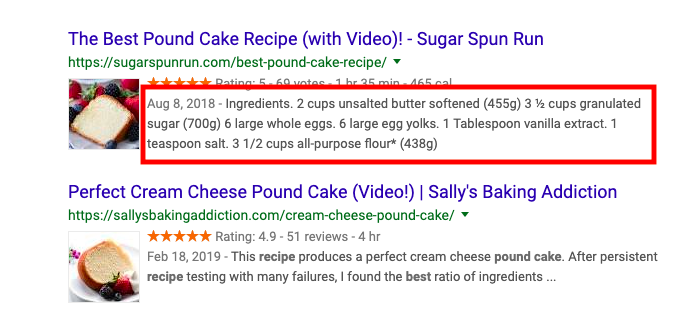 Some say it's best to use your exact target keyword in the meta description, but as you can see, pages can still rank highly with only some of the keyword displayed in the meta description. Since Google is quite smart, it will look for keyword variations as well. So instead of jam-packing your meta descriptions with keywords, try to write a short, descriptive paragraph that would make a searcher want to click on your page.
You'll want to keep your eye on the length of the description as well, since Google's 2019 character cutoff for desktop is around 158 characters, and for mobile, it's around 120 characters.
Step 4: Don't Forget Image "Alt" Text
Perhaps the most overlooked piece of on-page SEO is the image alt descriptions. In today's visual age, images and video are extremely important, and Google will reward you for them. In addition to helping the visually impaired, these descriptions will appear if an image fails to load.
Bonus: when you take a few minutes or seconds to add brief and descriptive text in the image alt box, you also increase the likelihood of your image appearing in Google's image packs.
What's that, you say?
Have you ever noticed when you use Google to search for something, they will display a series of images at the top or middle of the page? That's the image pack. And if your image appears in this pack, it will give your SEO a little boost.
If you're curious about how many people come to your site by clicking on an image, there's a little tool in Google Search Console that can tell you!

We know this is a lot of information to digest and execute so for now, we'll leave you to implement the first 4 steps, and share our final 4 steps in our next post.
Read: Part 2 Here
If this all sounds like a lot—but you want to take advantage of all SEO has to offer your business—give us a call! At New Wine Digital we specialize in web design, content marketing, PPC and email marketing. We'll do the SEO heavy lifting for you and get your online business found by more searchers.