A large and seemingly always expanding aspect of search engine optimization (SEO) is local search.
What is local search, you ask? Local search is centered around Google Maps and in turn, Google My Business listings. A large portion of local search comes from mobile searchers using google maps or the map pack that appears at the top of the standard Google search results.
An example of a local search might be "restaurants in Gilbert" or "dentist near me". You can see below in the screenshot to the right what the map pack looks like when you search "restaurants in Gilbert".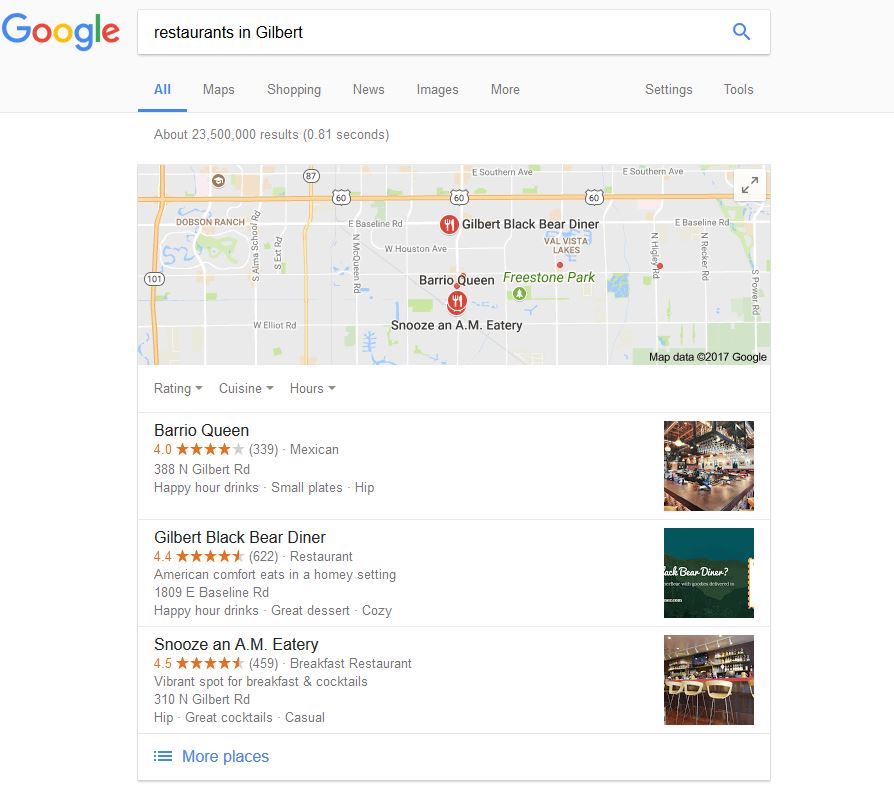 If you haven't created or claimed your Google Business Listing yet, you are losing out on tons of potential traffic. On top of that, most of those people searching are potential clients, patients or customers that are looking for businesses nearby to visit. According to Moz.com, the following are the top ranking factors for your Google My Business listing to appear at the top of search in Google Maps and eventually get into the coveted Top 3 Map Pack without having to "pay-to-play" to get there through adwords.
How to Get Your Google Business Listing Ranking & into the Map Pack
My Business Signals
First, it is important to make sure the listing itself is optimized. There are factors here you can't control like proximity to the searcher and whether the keyword is in your business title, but you can optimize your listing with the correct 3-4 categories that your business is relevant to.
Link Signals
Your Local Search ranking also takes into account link juice. If authoritative, relevant and local websites link to the website associated with your Google My Business listing, that will boost your map ranking as well as your regular organic ranking.
On-Page Signals
Make sure your homepage is optimized for the search terms you want to be found for in local search, if you have optimized for regular organic search this should already be in place. Title tags, meta descriptions, header tags, alt tags, etc. Another key factor is making sure your NAP (Name, Address, Phone Number) is listed on your website (every page in the footer is recommended) and matches the one in your Google My Business listing.
Citation Signals
When building out your citations from directories and other locations like Bing Places and Yelp, make sure your NAP is consistent. The more high-quality citations with consistent NAPs will help with your ranking.
Review Signals
The number, frequency & diversity of reviews on your Google My Business listing also play a large role when it comes to ranking. Encourage your customer or patient base to leave you reviews, but it's good to have a few 3 or 4-star reviews mixed in with the 5-star reviews for credibility.
Behavioral Signals
This one builds on itself, the higher your listing ranks, the more people will find it, click through, click to call, etc. This, in turn, will cause your listing to rank even higher. Though encouraging people to "check in" to your business is one way you can affect behavioral signals.
Personalization
This one is the easiest. Set aside an hour or two to go over your listing. Have you uploaded images of your logo and your staff? Clients, customers or patients? Have you utilized the new "post" feature to share articles and blogs on Google My Business? Make sure all of the information on the listing is filled out, accurate, and as personalized as possible.
Social Signals
Get social! The more your customers engage with your social profiles (Google, Facebook, Twitter) the better. This is also factored into your My Business listing to a smaller degree.
Have more questions about SEO and local search? Contact New Wine Digital today! We'd love to chat with you.