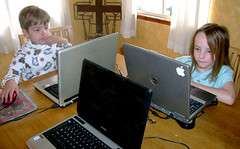 Social Media is everywhere these days and your kids are on it. Whether they're on Facebook, Twitter, Foursquare or any other social media utility, chances are your kids are interacting with all kinds of people on the web. And the truth of the matter is your kids know more about social networking and social media than you do. To top it off you feel pretty powerless when it comes to helping them be safe. Like anything online and in life there is the good, the bad and the ugly.
Don't worry though the Social Media Club Phoenix is partnering with Raising Arizona Kids magazine to provide parents with information to help keep kids safe on social media. Here are the details:
Date & Time:
Thursday, April 22, 2010 at 6pm
Location:
The MadCap Theater on Mill Avenue in Downtown Tempe.
Parking:
1 hour of parking FREE at these Mill Avenue District parking structures:
Brickyard Garage on 6th & 7th Street
Centerpoint Surface Lot on Maple Street
City Parking Garage on 5th Street
Hayden Square Garage on 3rd Street
FREE PARKING ALL DAY AT Ash & Farmer Surface Lots
FREE PARKING AFTER 6pm at City Parking Garage on 5th Street
Panelists:
Sheila Unwin – Educational professional with an 18-year-old son.
NJ Unwin – University student and son of Sheila Unwin.
Calie Waterhouse – Skateland Internet Community Manager and mother of 3
Devon Adams – High school teacher and Online Community College professor, as
well as the father of a 5-year-old
And pass this information along too by the way. So, if you know parents at your childs school, your neighbors,  your friends who could benefit please forward them this information. Help spread the word about this valuable resource!  Keep in mind more information is available on their Facebook event page, where you can also RSVP.
photo credit: notahandbag
Related articles by Zemanta