I've known Jennifer Furrier for over four years and she's an impressive businesswoman. She is the owner of Essential Organizing, a professional organizing and productivity consulting business specializing in helping busy professionals get organized and efficient through realistic systems for time, space and information. She is the recipient of the 2007 National Association of Professional Organizers Arizona Chapter Founder's Award, and was featured on news Channel 12 for her work creating and leading, Destination Organization, a non-profit project providing full organizational home makeovers to deserving families around the Valley.
Jennifer was selected for Arizona Business Journal's Top 35 Female Entrepreneurs Under 35 for 2009. She has been featured on The John Adam Show and contributed to articles for the Scottsdale Tribune, Phoenix Business Journal and BizAZ, Phoenix and So Scottsdale magazines. Her mission is to help people slow down their days, and have more time for
what's most important in their lives.
She's energetic, passionate and of course very very organized. Over the past few years Jennifer has also been using social media to increase her business. While she's not as active as she'd like to be, she has been able to generate business from this new medium. So, I sent her some questions to gain some insights on her business as it pertains to social media in particular. Here  are her answers:
1. What is the most amazing thing you did in 2009 when it comes to social media? Perhaps there was a blog post or a Twitter connection?
Had to be when I filmed and broadcast on YouTube, the removal of my 9 lb plaster cast, including a doc aggressively pulling out two huge, (at least to me they were huge), screws from my poor shattered wrist! All the work I've done to put high quality, solid content out there, has not received even close to the amount of attention that this painful couple of minutes did… As of now, there have been 15,587 views. To put that in perspective, I did a very informative radio interview on a well-known business radio show, and as of now, that has had 174 view. Haha! I love how social media lets us take any wild experience and turn it into an opportunities to entertain and teach others.
2. As a service professional is it possible to successfully use social media without being passionate about your work? What role does passion play in making your social media usage successful?
Ew! I can't imagine being a service professional and not being passionate about your work, period! To answer the question though- no, I don't think it's possible to do this successfully. Even if someone wanted to fake it, it would be forced, painful for them, and obvious to their audience.
Constantly, I see life experiences as perfect metaphors for the deeper meaning of the work I do, which is one main way I create content. If I wasn't connected to this bigger mission with what I'm doing, I don't think I would "see" these blogging opportunities as I clearly as I do now. Also, I'm a constant learner, and just believe so strongly in the benefits of being organized, that I actually want to tweet to the world! If someone wasn't into their work, ugh- well I just would tell them to figure out what sets their heart on fire, and go do that… (then get blogging & tweeting to all of us who want to hear from them, and learn what they know!)

3. How do you answer those that say social media takes too much time and is a waste of time?
I completely understan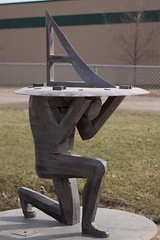 d how some people see it that way, and honestly, I've felt like that at times… I believe it definitely has to be a fit for the person, and their goals. If they're content with their current marketing strategies, and don't have a desire to teach or inform, then they can continue to think this way and I don't think it'll hurt them…
Now, I would also say, that it is actually a great way to leverage time. Think of how many hours face-to-face networking can take. Or imagine sending out an organizing tip to thousands, without utilizing the awesome resources out there. And just think of the kind of connections that can be made via social media, that would take hours of research, back and forth phone calls, etc. Now that, would be a waste of time! Funny too, because I'm a systems girl, so there are absolutely simple ways to be efficient with the time that is spent on this arena. It can be done effectively, I think with an hour a day. (Some tweets and peeps would say less, I'm sure).
4. How do you measure the success of your social media strategy? What role did social media play in making 2009 successful for you?
I'm answering the second question, first… The role social media seems to have played most clearly, is building credibility and giving people an opportunity to get to know and trust me, and what I'm doing. I think it's hilarious to hear clients preach to me, my quirky solutions for being organized and efficient, which they learned from reading my blog. For me, to be successful, I want to know I'm helping people-LOTS of people, and I know that all the tips, tricks and tweets that I shared over the past year, have helped people – and those are people I wouldn't have reached otherwise. I measure the success of the strategy based on the feedback I receive, both concretely (google analytics, number of views on a video or blog), and intangibly- (people commenting saying they've implemented a tip, they're thinking of something in a new way, etc).
5. How has the use of social media affected you personally?
I have become so much more aware of what incredibly big-minded, creative, passionate and powerful people are out there. This inspires me, and this motivates me. There are so many people sharing their invaluable lessons, their deep knowledge of something that I wouldn't have a clue on otherwise, and basically, have put their authentic selves out there- and I have just LOVED learning from them. I've even got to rock out to new bands I wouldn't have heard of otherwise, read books I may not ever have picked up on my own, and learned of new sites, new foods, and I could go on and on!
The saying "done is better than perfect" is one of my favorites, and goodness, sometimes the things I put out there are so far from "perfect," I'm cringing, but I know it's about progress, not perfection… Social media has given me a good platform to practice this, and get over myself and on with my mission!
Also, this is kind of funny, but I used to be terribly camera shy- and now I'm doing video blogging, sometimes for thousands! I'm not exactly sure how that's played out for me- but I'm guessing my confidence has been strengthened by facing something that was initially, completely frightening. I think overcoming fears is one of the coolest ways to grow, and get the most out of our lives!
6. What are your hopes for 2010 when it comes to social media?
I want a few thousand people more this year, than last, to have a positive shift in the way they're spending their time and energy, thanks to something they learned from what I do. (ok, ok, ideally, from purchasing my online training video, or hiring me to speak to their company). J I also want to continue to learn and be inspired by the insane amount of brilliant people that are out there, and then use this knowledge to better the way I live, including increasing my ability to uplift and inspire others.
Thank you Jennifer for taking the time to answer my questions.
Read the other "socializing interviews" to learn more about social media practitioners.
Socializing with Marc Spagnuolo: Building A Business Around Your Passion

Socializing With Dru Bloomfield: She Beat the Down Real Estate Market Using Social Media
Socializing With Non-Profit Director and Refugee Advocate Kelli Donley
Socializing With Mortgage Pro & SEO Expert Justin McHood
Socializing With Online Marketing Expert Nipa Shah
Related articles by Zemanta